How To Have A Sustainable Holiday Season
The holidays are here, and we know this time of year means an excess of everything - gifts, food, and drinks to name a few! This year, we thought we would change it up and focus on more mindful and sustainable holiday ideas to help us celebrate the holidays. 
Gift Wrap

Wrapping presents is a common holiday tradition, this year why not opt for a greener way to wrap. Instead of traditional wrapping paper, 'wrap' gifts in festive cloth that can be reused for crafts or sewing projects. Another idea is to put your items in a stocking! This is a fun way to give a bunch of smaller gifts and it looks very festive. Finally, the decorated boxes from the dollar store are a wonderful way to package presents, as the boxes can be used again.
Shop Local
Small, independently-owned businesses need our help more than ever this year. Make a conscious effort to shop small and local. By doing so you are not only supporting your community, but you are reducing emissions from forms of transportation that would bring in products from overseas. 
Gift Tags 

Similar to wrapping paper, gift tags end up in the garbage. Try using fun and unique keepsakes as a tag that the recipient can use long after opening the present. Some great ideas include personalized ornaments, cookies with their names, or a magnet. These little swaps can be used (or eaten) instead of thrown in the trash.

Give Green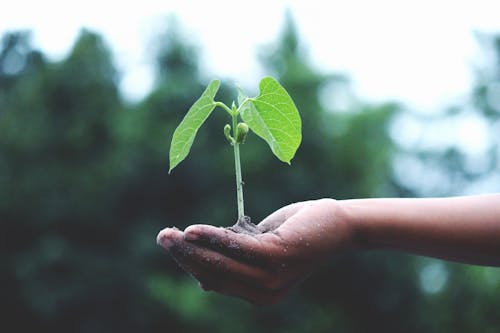 Sometimes the best way to help the planet is to gift green items. Some ideas include a travel mug for the person on your list who always goes to coffee shops. Or perhaps reusable drinking straws to help reduce one-use plastic. If you have a person who is difficult to shop for, consider gifting a houseplant or planting a tree in their honor. These are all small gift ideas that have a sustainable impact on our earth. 
Holiday Cards
Receiving holiday cards in the mail is a lovely tradition, but the cards tend to end up in the trash. Try sending holiday e-cards this year to spread cheer! This is a faster, easier way to send messages to your loved ones, without creating waste! If you must send your holiday cards, look for card options that are made from recycled materials. 
How do you practice sustainable habits during the holiday season?
---